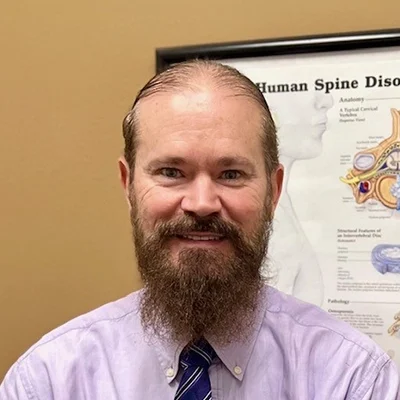 Chiropractor
Paul A. Narvid D.C.
South Location
As a patient, you should expect to be greeted with a caring and professional attitude by our staff. You will get my individual attention to properly address your medical history, symptoms, concerns, and treatment needs.
I take pride in treating my patients the way I would expect my family to be treated. My goal is to design a treatment plan that fits the needs of my patients with the best outcomes possible.
Trusting a physician to handle your care begins on day one. Dr. Paul Narvid is a Central Catholic High School graduate who studied pre-med at the University of Texas at San Antonio. While an undergraduate student he completed many volunteer hours at Wilford Hall Medical Center in the orthopedics department working with orthopedic surgeons, nurses, and staff following post-operative care and rehabilitation. This drove him to further his education in the musculoskeletal system. He continued his education at Texas Chiropractic College, Pasadena, Texas where he received his Doctor of Chiropractic degree. He has more than 26 years of experience in the clinical setting and has practiced in San Antonio as a treating physician. Dr. Narvid has treated athletes, actors, singers, doctors, lawyers, workers alike, kids, and each with the upmost respect. He has been blessed to work with some of San Antonio's top physicians and is respected enough to be considered to co-manage the care of patients from these specialists.
When Dr. Narvid is not working, he enjoys hunting, fishing, golf, and spending time with his family and dogs. His family has dedicated years as puppy raisers for the Guide Dogs for the Blind program and will continue to dedicate time to help this beautiful organization. Dr. Narvid and his team look forward to welcoming you to our practice for your care. Your health and wellness begins with you, call for your appointment today.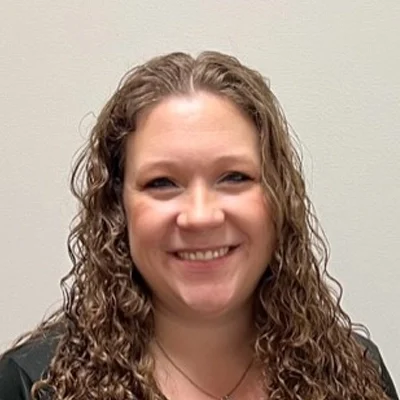 Chiropractor
Kadee Richter D.C.
South Location
Dr. Kadee Richter grew up living all over Texas. She graduated from Seguin High School where she was active in Dance, Band, and other community activities.
Upon graduation, she attended Texas A&M Corpus Christi where she was a member of the Starlette Dance Team while working on her degree.
She graduated with a Bachelor of Science with her specialty being in Immunology. While she was in high school her mother had a debilitating back injury that doctors told her only surgery could repair. She instead sought treatment with a chiropractor, and to this day has never had to undergo surgery. Kadee always had a love of animals and had wanted to be a veterinarian since a young age. After seeing her mother's recovery, she knew she wanted to help not only animals but people as well.
Upon graduation from A&M-CC, she attended Parker University in Dallas, Texas. There she obtained her Doctorate of Chiropractic and simultaneously obtained her certification for the Animal Chiropractic program.
After graduation she returned to the San Antonio area and knew she wanted to help injured people, like her mother, to recover with the least invasive means possible. Using her knowledge of chiropractic manipulations, rehabilitative exercises, and therapeutic modalities she started working to help people. She developed a passion for helping injured people to recover and has worked in wellness care, and treated workers comp and auto accident injury patients as well. She enjoys seeing the progress patients make from their first visit to their last visit. When not at work she still enjoys dancing when she can, attending concerts, reading a good book and spending time with her children and pets.
Chiropractor
James C. Outlaw D.C.
Northwest Location
Dr. Outlaw is a native Texan, that grew up in the Texas Hill Country. He attended Parker University in Dallas, where he graduated with a Bachelors of Science in Anatomy and a Doctorate in Chiropractic.
Dr. Outlaw is an experienced chiropractor with an emphasis in motor vehicle collisions, sports medicine, and physiotherapy. He treats a variety of musculoskeletal conditions and enjoys helping people return to their regular activities. When not at work, Dr. Outlaw enjoys spending time with his wife and two dogs, exercising, and perfecting his culinary skills.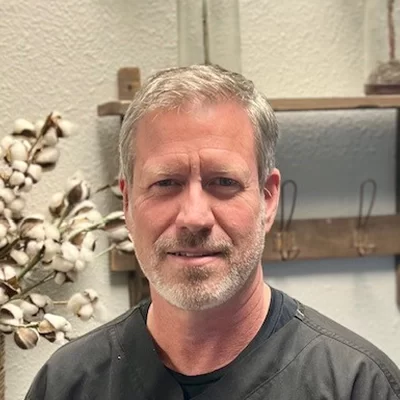 Chiropractor
Benjamin Barnett D.C.
Northwest Location
Dr. Benjamin Barnett is originally from Louisiana but has lived in Texas most of his life. His early education started in the Kingwood area of Houston and continued in Midland with graduation from Midland Lee High School.
He then went on to pursue higher education at Baylor University, graduating with a Bachelors in Biology.
It was during a chance visit with his mother to visit her Chiropractor that he became interested in the study of the field. After deciding to pursue this career he enrolled in Parker University in Dallas graduating with a Doctor of Chiropractic degree in 1998. He began his career in private practice in Dallas and then went on to practice for 17 years in the Rio Grande Valley. Deciding to relocate his family and settle in San Antonio, Dr. Barnett joined River City Chiropractic in 2022. Cumulatively he has nearly 25 years of practice experience, with nearly 18 years exclusively focusing on the treatment and rehabilitation of injuries related to motor vehicle accidents and personal injuries.
In his spare time, Dr. Barnett enjoys traveling with his wife and daughter. He also is an avid outdoorsman enjoying fishing and hunting many of the great areas of Texas.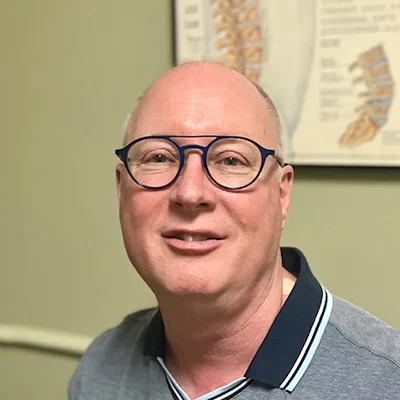 Chiropractor
Jeffrey S. Sturgeon D.C.
Northeast Location
Dr. Jeffrey S. Sturgeon didn't always want to be a chiropractor. After graduating from Baker University in Baldwin City, KS, he worked in several fields before becoming a hotel manager.
During one Midwest winter, he fell on an icy driveway injuring his back.
Knowing that his dad had always seen a chiropractor for back pain, led him to seek out the help of the closest chiropractor. That experience not only helped him to recover from his injury but set him on his career path.
Dr. Sturgeon graduated from Cleveland University – Kansas City and has been in practice in the San Antonio area since 1994 with a primary emphasis on personal injury care.
According to Dr. Sturgeon, the best part of being in practice is the connections he makes with his patients. His chiropractic journey began with an injury and he values helping others recover from their injuries. When not in the office, he loves spending time outdoors, reading, and making a fantastic peach jam.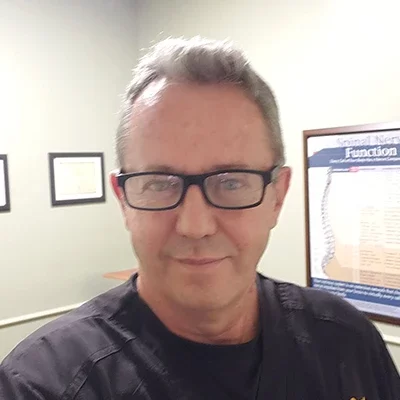 Chiropractor
Bruce Bell D.C.
Northeast Location
Dr. Bell brings to River City Chiropractic decades of experience, knowledge, compassion and skill for patients suffering from motor vehicle collision injuries. Like most Chiropractic Doctors, Dr. Bell chose his profession after witnessing firsthand the powerful healing of family members and himself with evidence-based Chiropractic Care.
With years of experience as a State Appointed Qualified Medical Evaluator and Board Certification in Chiropractic Sports Medicine, Dr. Bell has had the privilege of treating a wide range of patients from International World Class Elite and Olympic athletes to victims of work related and motor vehicle injuries.
As a life long student and believer in the power of positive psychology, and with several years of successful experience in the realm of Med-Legal health care, Dr. Bell looks forward to helping his patients gain relief, recovery and restoration of their health and happiness, and is honored to be a member of the River City Chiropractic team!
OFFICE HOURS
---
Monday
10:00am - 7:00pm
---
Tuesday
10:00am - 7:00pm
---
Wednesday
10:00am - 7:00pm
---
Thursday
10:00am - 7:00pm
---
Friday
10:00am - 7:00pm
---
Saturday & Sunday
Closed
1518 Austin Hwy # 13
San Antonio, TX 78218
(210) 824-9595
OFFICE HOURS
---
Monday
10:00am - 7:00pm
---
Tuesday
10:00am - 7:00pm
---
Wednesday
10:00am - 7:00pm
---
Thursday
10:00am - 7:00pm
---
Friday
10:00am - 7:00pm
---
Saturday & Sunday
Closed
6338 Northwest Loop 410
San Antonio, TX 78238
(210) 682-9696
OFFICE HOURS
---
Monday
9:00am - 6:00pm
---
Tuesday
9:00am - 6:00pm
---
Wednesday
9:00am - 6:00pm
---
Thursday
9:00am - 6:00pm
---
Friday
9:00am - 6:00pm
---
Saturday & Sunday
Closed
1022 SW Military Dr
San Antonio, TX 78221
(210) 922-9494